<! content start> AEK - Alien Excursion Kit - Vue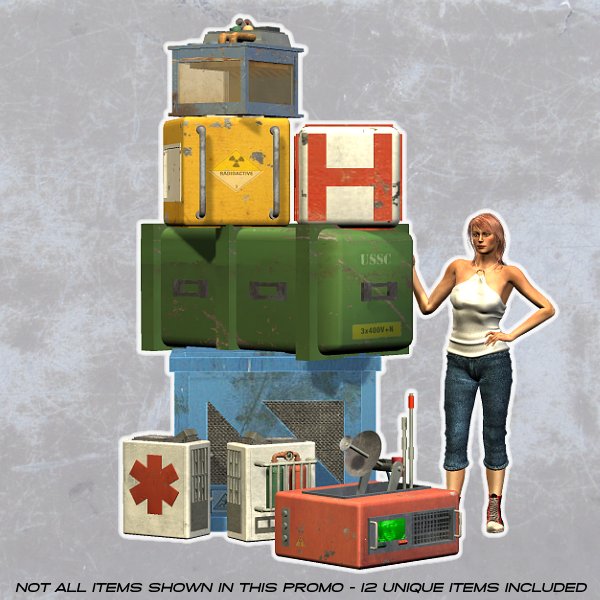 Created by: MrSparky
File Size: 8.86mb
Format: Vue

The AEK [Alien Excursion Kit] contains a set of 12 Sci-Fi Boxes, Crates, and Accessories... almost everything you need to wander around strange new worlds, say hi to new life, and exploit new civilizations.

1 Blue Box for things & 1 Com Box
1 Drill with moving parts & 1 Fuelpod.
1 Portable Generator & 1 Set of lights.
1 H-Box & 1 Medbox with oxy and nitro cylinders
1 Rocket Box & 1 Slug box
1 Oxygen Generator & 1 Yellow GearBox
Razor Sci-Fi Buggy - Poser

All of the models have fine modelled details, such as dials, gauges and screens for closeup shots. Templates in .BMP format are alsoincluded.


This is the Vue Version




<!- bundle code->
Bundle Deal:

Get the AEK (Vue & Poser), Ares, Battle Bug, Combat Force, Dino Truck, Star Tug (Vue & Poser), Hells Hauler, Lorida, Razor, Sci-Fi Truck, Skylon Racers, SnubNose (Vue & Poser) and Zombie for an amazingly low $10. Saving $21.84!

Click here for the bundles page


<!- bundle code-> Additional Product Images:





Related Products:


Licencing Terms:


Standard store licence. A copy can be found here.

<! content stop>