<! content start> Aircraft 146 - Vue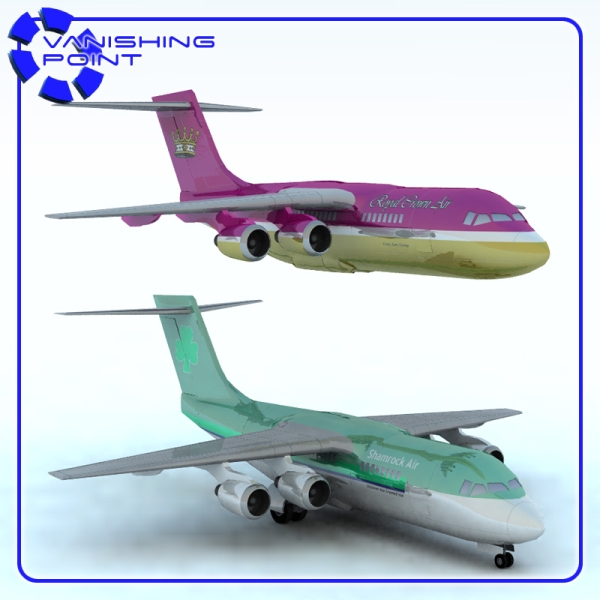 Created by: Vanishing Point
File Size: 7.44mb
Format: Vue

This aircraft model is inspired by the design of the BAE 146, a four-engine, civilian passenger aircraft.

From Wikipedia... The BAE 146 is a medium-sized commercial aircraft which was manufactured in the United Kingdom. Production ran from 1983 until 2002. Manufacture of the improved version known as the Avro RJ began in 1992. A further-improved version, the Avro RJX with new engines was announced in 1997, but only two prototypes and one production aircraft were built before production ceased in late 2001.

This aircraft has four turbofan jet engines mounted on pylons underneath the wings, and has retractable tricycle landing gear. The aircraft has a very quiet operation, and has been marketed under the name Whisperjet. It sees wide usage at small city-based airports. In its primary role it serves as a regional jet, short-haul airliner or regional airliner.



.: Product Features :.

Includes 2 vob files, for use in Vue d`Esprit 5 and above -In Flight: landing gear hidden, landing gear doors closed; with Royal Crown color scheme -Landed: landing gear visible, landing gear doors open; with Shamrock color scheme
The models include separate parts, which can be adjusted to suit the needs of your scene. Note: although the parts can be moved, no pivot points have been set.



.: Textures :.

Includes five texture sets, at 2048x2048 pixels -MarJoh Airlines: red and black -Royal Crown Airlines: purple and gold, with a white stripe -Red Sun: white with blue stripes -Shamrock Air: green top with white bottom and a shamrock on the tail -Unifed Airways: green and dark blue, with a red stripe
Templates are included for all materials; some templates are color-coded according to material.
The model is mapped the same as the Poser version, so all add-on textures for the Poser version will work with this version.


This is the Vue Version
Additional Product Images:
Related Products:


Licencing Terms:


VP licence. A copy can be found here.

<! content stop>