<! content start> Aircraft 707 - Vue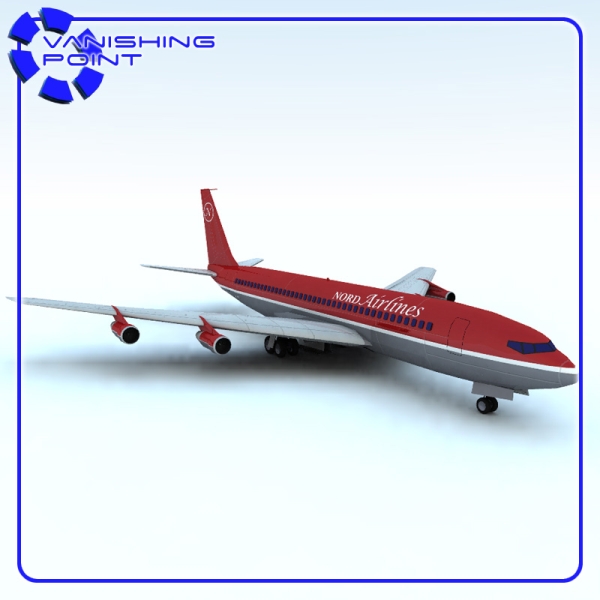 Created by: Vanishing Point
File Size: 9.44mb
Format: Vue

Based on the design of the 707, this Poser aircraft is ready to take to the skies... or stay on the ground, whichever best suits your needs. From Wikipedia: The 707 aircraft is a four-engine commercial passenger jet airliner developed by in the early 1950`s. Its name is most commonly pronounced as "Seven Oh Seven".

Although it was not the first commercial jet in service, the 707 was among the first to be commercially successful. Dominating passenger air transport in the 1960`s, and remaining common throughout the 1970`s, the 707 is generally credited with ushering in the Jet Age.

The first flight of the first production 707-120 took place on December 20, 1957, and FAA certification followed on September 18, 1958. Production of the passenger 707 ended in 1978. In total, 1,010 707s were built for civil use, though many of these found their way to military service. The purpose-built military variants remained in production until 1991.

Traces of the 707 are still found in the 737, which uses a modified version of the 707`s fuselage, as well as essentially the same external nose and cockpit configuration as the 707.

The VC-137C variant of the [707] was a special-purpose design meant to serve as Air Force One, the secure transport for the President of The United States of America. These models were in operational use from 1962 to 1990.



.: Product Features :.

Includes 2 vob files, for use in Vue d`Esprit 5 and above -In Flight: landing gear hidden, landing gear doors closed; with NordAirlines color scheme -Landed: landing gear visible, landing gear doors open; with Falcon Airlines color scheme
The models include separate parts, which can be adjusted to suit the needs of your scene. Note: although the parts can be moved, no pivot points have been set.



.: Textures :.

Includes five texture sets, at 2048x2048 pixels -Allied Airways: blue and white body with a blue tail -Falcon Airlines: black body with a red stripe and tail -NordAirlines: Red and gray, with a white stripe -Shamrock Air: green top with white bottom and a shamrock on the tail -Sunny Air Lines: blue top, yellow bottom, with a sun on the tail
Templates are included for all materials; some templates are color-coded according to material.
The model is mapped the same as the Poser version, so all add-on textures for the Poser version will work with this version.


This is the Vue Version
Additional Product Images:
Related Products:


Licencing Terms:


VP licence. A copy can be found here.

<! content stop>