<! content start> Aircraft 717 - Vue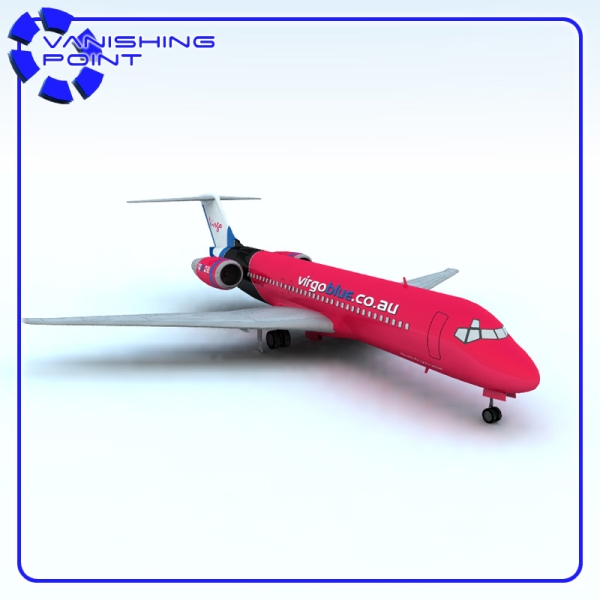 Created by: Vanishing Point
File Size: 6.66mb
Format: Vue

Based on the design of the 717, this Poser aircraft is ready to take to skies... or stay on the ground, whichever best suits your needs. From Wikipedia: The 717 is a twin-engine, single-aisle jet airliner, developed for the 100-seat market. The airliner was originally designed and marketed as the MD-95, a third-generation derivative of the DC-9.

Like its DC-9/MD-80/MD-90 predecessors, the 717 has a 2+3 seating arrangement in coach, providing only one middle seat per row, whereas other single-aisle twin jets often have 3+3 arrangement with two middle seats per row. The first 717 planes entered service in 1999, and production ceased in May 2006 after 156 units were produced.



.: Product Features :.

Includes 2 vob files, for use in Vue d`Esprit 5 and above -In Flight: landing gear hidden, landing gear doors closed; with Virgo color scheme -Landed: landing gear visible, landing gear doors open; with Unifed Airways color scheme
The models include separate parts, which can be adjusted to suit the needs of your scene. Note: although the parts can be moved, no pivot points have been set.



.: Textures :.

Includes five texture sets, at 2048x2048 pixels -Piedway Airlines: white with blue and gray stripes and a cartoon plane -QuantAir: white with red engines and a red tail -Royal Crown Air: purple with a yellow bottom, white stripe, and a crown symbol on the tail -Unifed Airways: green top with blue bottom and a red stripe -Virgo: red front with black and blue trim and a white tail
Templates are included for all materials; some templates are color-coded according to material.
The model is mapped the same as the Poser version, so all add-on textures for the Poser version will work with this version.


This is the Vue Version
Additional Product Images:
Related Products:


Licencing Terms:


VP licence. A copy can be found here.

<! content stop>