<! content start> Aircraft 737 - Poser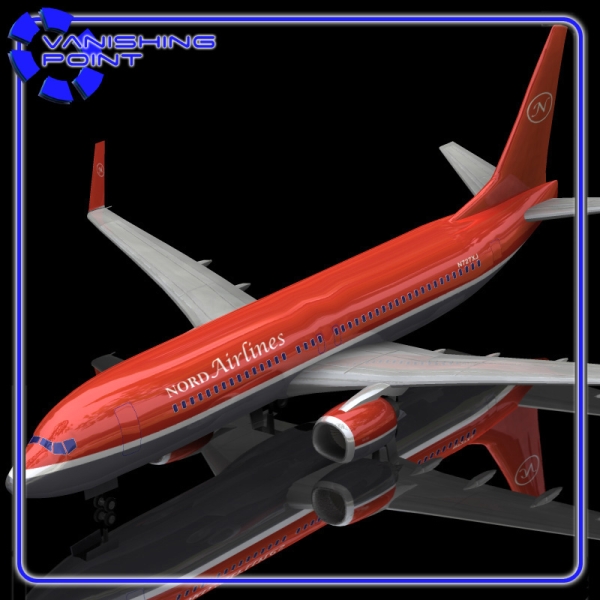 Created by: Vanishing Point
File Size: 8.98mb
Format: Poser

Based on the design of the 737, this Poser aircraft is ready to take to skies... or stay on the ground, whichever best suits your needs. From Wikipedia: The 737 is a short to medium range, single aisle, narrow body jet airliner. Originally developed as a shorter, lower-cost twin-engine airliner derived from the 707 and 727, the 737 has nine variants with the -600, -700, -800 and -900 currently in production.

Originally envisioned in 1964, the 737 first flew in 1967, and entered airline service in February 1968. The 737 series is the best selling jet airliner in history.

Engines on the 737 series appear not to have circular inlets, as most aircraft do. This was done because the 737 sits lower to the ground than most airliners.

This model is based on the design of the 737-800, which includes "winglets" on the ends of the main wings. From Wikipedia: A winglet (or wingtip device) is a near-vertical extension of the wing tips. Wingtip devices are usually intended to improve the efficiency of fixed-wing aircraft. There are several types of wingtip devices, and though they function in different manners, the intended effect is always to reduce the aircraft's drag by altering the airflow near the wingtips. Such devices increase the effective aspect ratio of a wing without materially increasing the wingspan.



.: Product Features :.

Poser figure: obj, cr2/ png
Rudder can rotate left to right (with an ERC dial on the BODY).
Left and right ailerons (rear wing flaps) can rotate up and down.
Two sets of left and right wing flaps on the main wings can rotate up and down. -An ERC dial on the BODY raises or lowers both flaps. -A second ERC dial on the BODY raises or lowers the flaps opposite each other for banking turns.
The landing gear wheels can open and close.
The landing gear doors can open and close. -An ERC dial on the BODY opens and closes both the landing gear wheels and the landing gear doors.

This model is designed for exterior shots only: there is no interior and the doors do not open.



.: Textures/ MAT Poses:.

Includes five texture sets, at 2048x2048 pixels -Berman Wings: Gray with a yellow tail -NordAirlines: Red and gray, with a white stripe -PN: Red bottom with blue clouds -Sudouest: Green with red and orange stripes -Sunny Airlines: Blue with yellow engines
Tires use a displacement map for extra detailing.
Templates are included for all materials; some templates are color-coded according to material.
Be sure to keep an eye out for additional free add-on textures for this aircraft!

Note: This model was designed for Poser and the Firefly Renderer: the metal surfaces use ray-traced reflections.


This is the Poser Version
Additional Product Images:
Related Products:


Licencing Terms:


VP licence. A copy can be found here.

<! content stop>