<! content start> B1- Bomber - Vue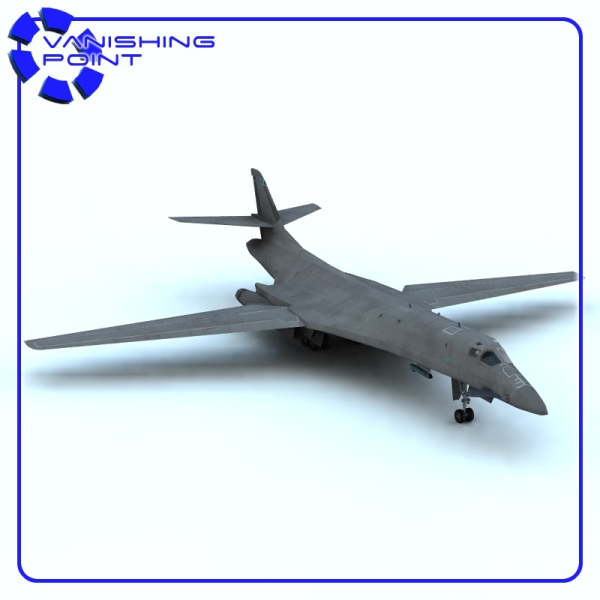 Created by: Vanishing Point
File Size: 6.99mb
Format: Vue

From Wikipedia... The B1 Lancer is a four-engine, variable-sweep wing strategic bomber used by the United States Air Force. First envisioned in the 1960s as a supersonic bomber with sufficient range and payload to replace the Boeing B-52 Stratofortress, it developed primarily into a low-level penetrator with long range and supersonic speed capability. The B1B entered service with the United States Air Force (USAF) in 1986.

The bomber is commonly called the "Bone" (originally from "B-One"). With the retirement of the EF-111A Raven in 1998 and the F-14 Tomcat in 2006, the B-1B is the U.S. military's only active variable-sweep wing aircraft.

The B-1 has a blended wing body configuration, with variable-sweep wing, four turbofan engines, and triangular fin control surfaces. Forward-swept wing settings are used for takeoff, landings and high-altitude maximum cruise. Aft-swept wing settings are used in high subsonic and supersonic flight. The B-1's variable-sweep wings and thrust-to-weight ratio provide it with better takeoff performance, allowing it to use more runways than previous bombers. The length of the aircraft presented a flexing problem due to air turbulence at low altitude. To alleviate this, the manufacturer included small triangular fin control surfaces or canards near the nose on the B-1.

Its maximum speed is Mach 1.25 (about 950 mph or 1,530 km/h at altitude), but its low-level speed increased to Mach 0.92 (700 mph, 1,130 km/h). Technically, the current version of the aircraft can exceed its speed restriction, but not without risking potential damage to its structure and air intakes. To help lower its radar cross section (RCS), the B-1B uses serpentine air intake ducts and fixed intake ramps, which limit its speed compared to the B-1A. Vanes in the intake ducts serve to deflect and shield radar emissions from the highly reflective engine fan blades.



.: Product Features :.

Includes two versions of the model (2 .vob files):
Landed: with landing gear down and wings extended
In Flight: with landing gear up and wings swept back

Each model has sub-groups which you can adjust to suit the needs of your scene: -Wings -Rudder -Wing flaps -Rear flaps (ailerons) -Landing gear -Pilot and co-pilot The pivot points on the main wings have been set so you can easily rotate them into position. The wing flaps have been grouped with the main wings, which allows you to move the entire wing assembly as one part.


Textures: -Texture maps: 1024x512 -Specular maps: 1024x512 (these are not used on the model, but are included for your convenience) -Bump/ normal maps: 1024x512 -Texture templates are not included; if you want to make your own textures, use the existing textures as guidelines. Materials have been optimized for use in Vue: includes bumpiness, reflection, and additional metallic coloring.


This is the Vue Version
Additional Product Images:
Related Products:


Licencing Terms:


VP licence. A copy can be found here.

<! content stop>