<! content start> Vandura Family Sedan - Poser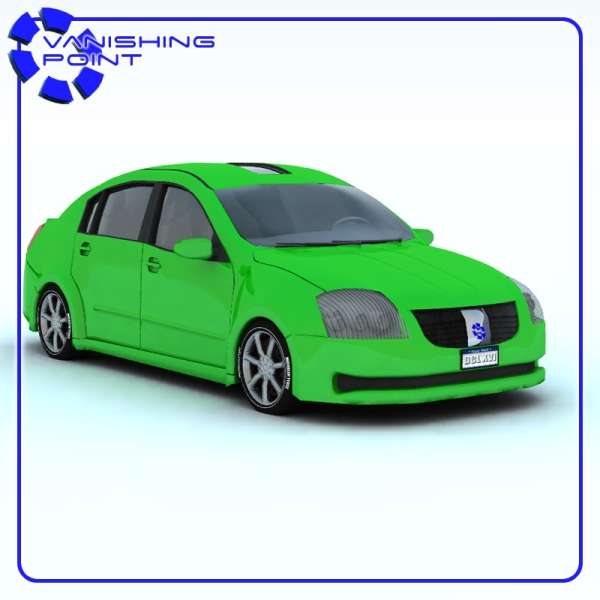 Created by: Vanishing Point
File Size: 3.51mb
Format: Poser

Introducing the next vehicle from VP automotive: a family sedan car.

While mother`s taking the kids in the family minivan (also sold here), father can take his clients to a three-martini lunch in style... without worrying about squeezing the SUV into a compact-car parking space.



.: Product Features :.

Poser figure: includes obj, cr2/ png, 75,230 polygons
An ERC dial on the BODY rotates all four wheels.
Steering wheel is turnable and an ERC dial on the BODY affects both the front wheels and steering wheel.
Rear trunk can open and close, with an ERC dial on the BODY.
Hood can open and close, with an ERC dial on the BODY. -A low-polygon engine can be seen when you open the hood.
Right and left front doors can open and close, with an ERC dial on the BODY.
Right and left rear doors can open and close, with an ERC dial on the BODY.
Front seats can move forward and backward to accommodate the various Poser figures. -Unlike our SUV models, the rear seats in this car can not be hidden. Then again, this is a family/ sedan car which isn't designed with as much trunk storage page as an SUV.
Front license plate can be hidden or shown, depending on the needs of your scene.
Bonus! Includes dashboard with left-hand steering wheel (US) AND right-hand steering wheel (UK).



.: Morphs :.

All four wheels include a "Flat Tire" morph to simulate a flat tire.



.: Textures/ MAT Poses :.

Five textures/ MAT poses: -Dark Blue -Black/ Dark Gray -Green -Red -White
Four textures/ MAT poses for the license plates: -Maryland -Michigan -Ontario -New York Also includes corresponding displacement maps to simulate raised lettering on the plates. -Displacement mapping adds extra realism as the plate-lettering is three-dimensional. The license plate is mapped the same as our other cars and trucks, which means you can use those textures on this model.
Bump map on the tires creates tread detailing.
Texture map and bump map on the underside creates extra detailing.
Accurately reflecting mirrors.
Templates for all materials included and materials are color-coded.



.: Hide/ Show Poses :.

Hide/ show front license plate
Show steering/ dashboard left (hides steering/ dashboard right)
Show steering/ dashboard right (hides steering/ dashboard left)
Sunroof open/ closed

For use in Poser 5 and above: uses procedural materials such as reflection, displacement, and blinn. This product has NOT been tested for use in DAZ|Studio.

Note: All sales images were rendered in Poser 6. No post-work was used except for compositing.




This is the Poser Version
Additional Product Images:
Related Products:


Licencing Terms:


VP licence. A copy can be found here.

<! content stop>