<! content start> Delivery Van - Vue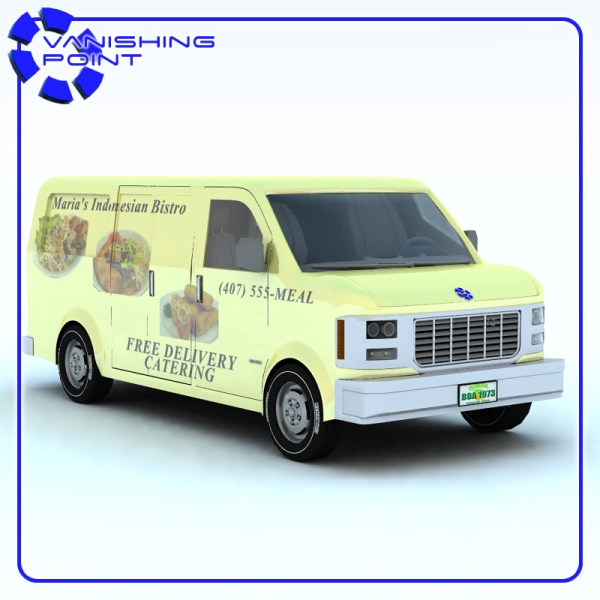 Created by: Vanishing Point
File Size: 11.5mb
Format: Vue

Introducing the next service vehicle from VP automotive: a delivery van.

Whether you need to transport supplies, food, or any cargo, this delivery van can carry it all. The side doors allow quick and easy access to all of your cargo.

Please note that this van is designed to transport cargo, and because of this, no rear seats are included. Also note that transporting passengers in the rear without seats or other safety harnesses may be unsafe.



.: Product Features :.

Includes two Vue models (in vob format): -Right hand steering (Yellow Indonesian Bistro body color) -Left hand steering (Black Flower Delivery color)
Model includes sub-parts which can be rotated or positioned, including: -All four wheels -Left and right front doors -Left and right rear doors -Right side doors -Hood
Materials have been optimized for use in Vue and include transparency, reflection, and refraction.
Includes five textures maps/ bump maps for the license plates: -Florida 1 (Sunshine State design) -Florida 2 (Manatee design) -Illinois -Texas -White metallic (commercial vehicle)
Templates for all materials included.

For use in Vue 5 and above.

Note: All sales images were rendered in Vue 5.


This is the Vue Version
Additional Product Images:
Related Products:


Licencing Terms:


VP licence. A copy can be found here.

<! content stop>