<! content start> Elfblade For V4 - Poser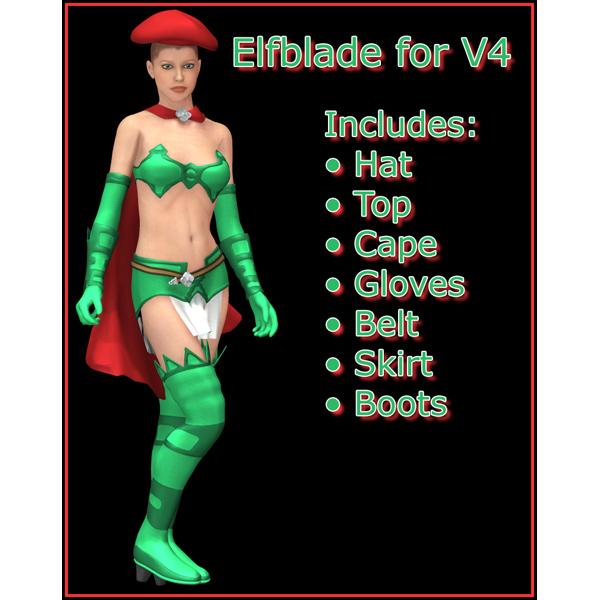 Created by: Vanishing Point
File Size: 4.12mb
Format: Poser



.: Elfblade: a fantasy-inspired outfit for V4 :.



Your V4 characters will be looking stylish whether she`s adventuring through the forest or journeying through sci-fi hallways.



.: Clothing Models :.




Hat Morphs: -FBMBulk
Belt Morphs: -FBMBulk -PBMHipsSize -FBMThin -PBMWaistWidth
Boots Morphs: -FBMBulk -PBMShinsThickness -PBMThighsThickness -PBMThighsTone -FBMThin -JCMThighBendFrontL -JCMThighBendFrontR
Cape: This is a parented-figure which includes ERC dials to control the bend, twist, and side-to-side movement.
Gloves Morphs: -PBMBicepsFlex -FBMBulk -PBMForearmsThickness -PBMShouldersThickness -FBMThin -JCMElbowBendL -JCMElbowBendR
Top Morphs: -PBMBreastsCleavage -PBMBreastsCleavageWidth -PBMBreastsDiameter -PBMBreastsDroop -PBMBreastsFlatten -PBMBreastsHangForward -PBMBreastsImplant -PBMBreastsLarge -PBMBreastsNatural -PBMBreastsPerk -PBMBreastsSize -FBMBulk -PBMLatsSize -FBMThin
Skirt Morphs: -PBMBellyThickness -FBMBulk -PBMGlutesSize -PBMHipsSize -FBMThin -PBMWaistWidth



.: Textures/ Colors :.

Green and red (default color scheme)
Yellow
Blue
Black

Mix and match colors to make new combinations!

Does not use Poser`s procedural nodes: the texture is a combination of the object color, bump maps, and reflection maps. All objects are UV mapped and templates are included. Bump map and reflection map included.

Requires the previous download and installation of Vicky 4.2 from DAZ.


This is the Poser Version
Additional Product Images:
Related Products:


Licencing Terms:


VP licence. A copy can be found here.

<! content stop>