<! content start> News Helicopter - Vue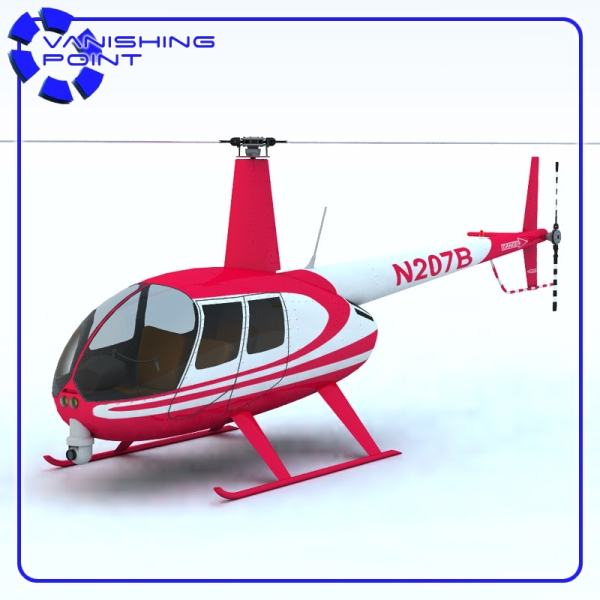 Created by: Vanishing Point
File Size: 8.46mb
Format: Vue

This helicopter is based on the design of the R44 civilian helicopter. This model helicopter is commonly used by TV and radio stations for its light weight and maneuverability.

The R44 helicopter can carry a camera on its nose, under the belly, or on small wings. This version includes a camera mounted on the nose.



.: Product Features :.

Includes 2 vob files, for use in Vue d`Esprit 5 and above -Static Blades: use this version for when the helicopter is landed; with the Red and White texture -Blade Blur: use this version for when the helicopter is in flight; with the Blue and Gold texture
The models include separate parts, which can be adjusted to suit the needs of your scene. The pivots points have been set for the top blades and rear blades, so you can animate the blades as needed. Note: the "blade blur" version does not include upper and rear blades, so it can not be used in images where you need stationary blades.

The "Blade Blur" version of the helicopter model allows you to make scenes which simulate the blades spinning without the need for adjusting any "motion blur" or animation settings. Simply load the model into the scene, position the model where you like it, position the camera where you like it, and render!



.: Textures :.

Four (4) color schemes: -Black -Blue/ White -Red/ White -Blue/ Gold
"Rivet" bump map
Templates for all materials are included.
The model is mapped the same as the Poser version, so all add-on textures for the Poser version will work with this version.

Note: Since the doors are separate parts, they can be moved out of the camera`s range. Please note that we don`t recommend flying the helicopter without the doors since there are no seat belts to hold your Poser people in the seats.


This is the Vue Version
Additional Product Images:
Related Products:


Licencing Terms:


VP licence. A copy can be found here.

<! content stop>