<! content start> Sci-Fi Hallways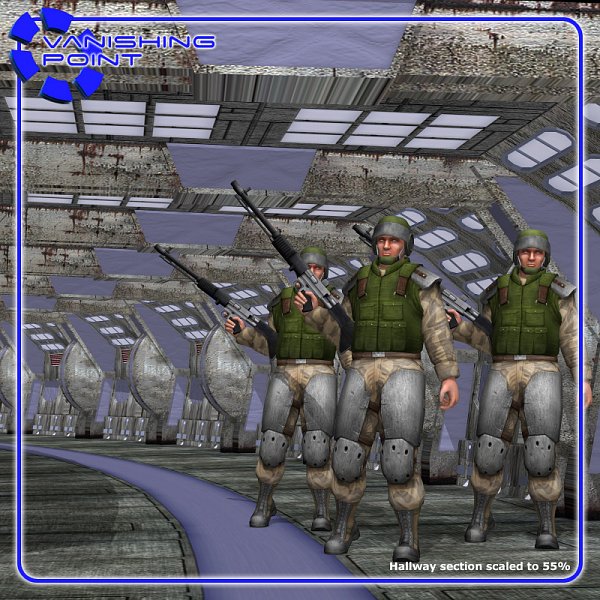 Created by: Vanishing Point
File Size: 15.8mb
Format: Poser

Designed for use with the Starship Bridge 7 (or separately), this is a set of hallway/ corridor sections for all your sci-fi, fantasy, or industrial scenes.

Scaled to the Poser people, at about 20 feet tall and 40 feet wide, these hallway sections can also fit small vehicles, alien intruders, or robotic armies. For a more intimate setting, try reducing the scale of the hallways.



.: Product Features :.

Poser figure files (obj, cr2/ png)
Short section (1 archway): 8,291 polygons
Long section (4 archways): 33,797 polygons
Long curved sections (9 archways): 66,961 polygons -Right-curved at 45 degrees -Left-curved at 45 degrees
Doorway arch, which can be positioned at the end of the hallway sections: 255 polygons

The right wall, left wall, and ceiling (for each hallway section) can be hidden or shown to suit the needs of your scene using the included hide/ show poses.



.: Textures :.

One set of textures (at 2048x2048 pixels) is included. -Includes texture map, bump map, and ambient map
All of the hallway sections use the same UV mapping, which means you can use the same textures on each one.
Templates are included for all materials, and some are color-coded for ease-of-use.



.: Poses :.

Hide/ show the left wall, the right wall, and the ceiling
All of the hallway sections use the same part names, which means the hide/ show poses will work on each one.


This is the Poser Version
Additional Product Images:
Related Products:


Licencing Terms:


VP licence. A copy can be found here.

<! content stop>