! Start - grad > <! Stop - grad > <! Start - nav-home > <! Stop - nav-home > <! Start - nav-3d > <! Stop - nav-3d > <! Start - nav-gallery > <! Stop - nav-gallery > <! Start - nav-about > <! Stop - nav-about > <! Start - nav-links > <! Stop - nav-links > <! Start - nav-contact > <! Stop - nav-contact > <! Start - define carriage returns > <! Stop - define carriage returns > <! Start - text styles> <! Stop - text styles> <! Start - download buttons> <! Stop - download buttons> <! Start - large image tooltip> <! Stop - large image tooltip> <! Start - lightbox> <! Stop - lightbox>

<! Start - page header>

<! Stop - page header> <! Start - define main table >

<! Start - main nav cell >
<! Start - nav- home > <! Stop - nav- home > <!- Start Nav-3d> <!- Stop Nav-3d> <!- Start-Nav - Gallery> <!- Stop-Nav - Gallery> <!- Start-Nav - about -links- contact> <! Stop - main nav cell >
<! Start - main spacer cell >
<! Stop - main spacer cell > <! Start - main content cell >
<! Start - category title >



---
A steampunk poser model with a cool twist. This one is inspired by Tom Brogden's fully working replica of Richard Trevthick's 1803 London Steam Carriage, as displayed at the Goodwood Festival of Speed.

Akin to the original and replica, the engine on this 3d model is made from wrought iron polygons and all the woodwork carved from the finest Carrara vertexes.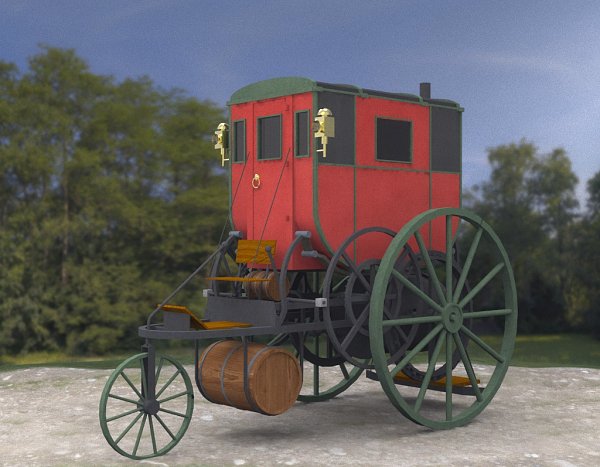 Unlike other modes of transport, such as the dashed infernal combustion engine (which can exceed the fatal speed of 30 MPH due to lack of air), this coach has a safe maximum speed of just 10 MPH. Plus a high exhaust stack means noxious fumes will be vented away from any passing horses and small children.

As well as featuring ultra comfortable seating with leather strap suspension, this poser version also has many modelled details. Such as bolts, accurate cogs & driving rods, steering, and even the beer barrel tribute as seen on the real replica.This attention to detail extends to the textures, such as including ash in the firebox.

Overall this model is spiffingly perfect for any gentleman who likes to travel around town in the latest form of mechanised convenveyance. Though ladyfolk should be aware when alighting or exiting the coach that their ankles can be visible.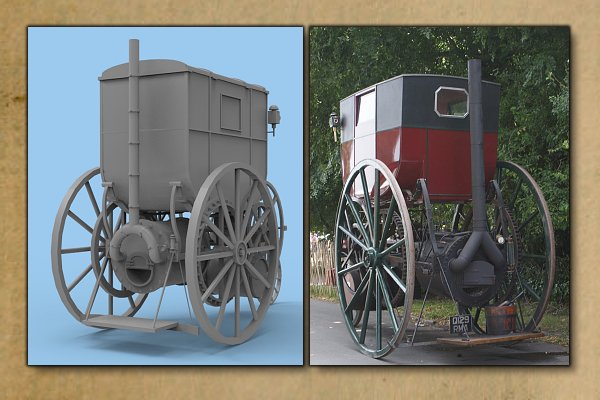 <! Stop - define main table > <! Start - footer > <! Stop - footer >