<! Start - main nav cell >
<! Start - nav- home > <! Stop - nav- home > <!- Start Nav-3d> <!- Stop Nav-3d> <!- Start-Nav - Gallery> <!- Stop-Nav - Gallery> <!- Start-Nav - about -links- contact>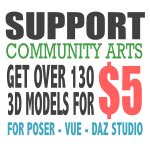 <! Stop - main nav cell >
<! Start - main spacer cell >
<! Stop - main spacer cell > <! Start - main content cell >
<! Start - category title >

3D Freebies : Tutorials & Concepts





---
Any models found in this section are in Poser format (with external .OBJ's) and bitmap (.JPG) based textures.
They can be used within Poser, Studio, Vue or any software - ie: Max, Zbrush, Lightwave etc - that can import .OBJ.s.
All .zip files have paths for easy installation and a readme file with full instructions and useage.
---
<! Start - Object>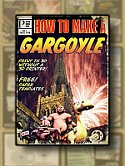 Print a 3D Gargoyle Without a 3D printer
This fun comic was originally created for an outsider artist workshop. A workshop designed to introduce the concepts of how 3d printing works, Plus provide a basic guide on how-to to use the free Autocad 360 Slicer software. Given the workshop location a Gargoyle was chosen, but the principles and approaches can be used on almost 3D model. It's 8 A4 pages (.PDF) includes templates, tips and even a colouring in page, so 360 Slicer isn't required. Making it great fun for a few hours of lockdown.
Please Note: It's not an official Pallant House Gallery or Chichester Cathedral publication.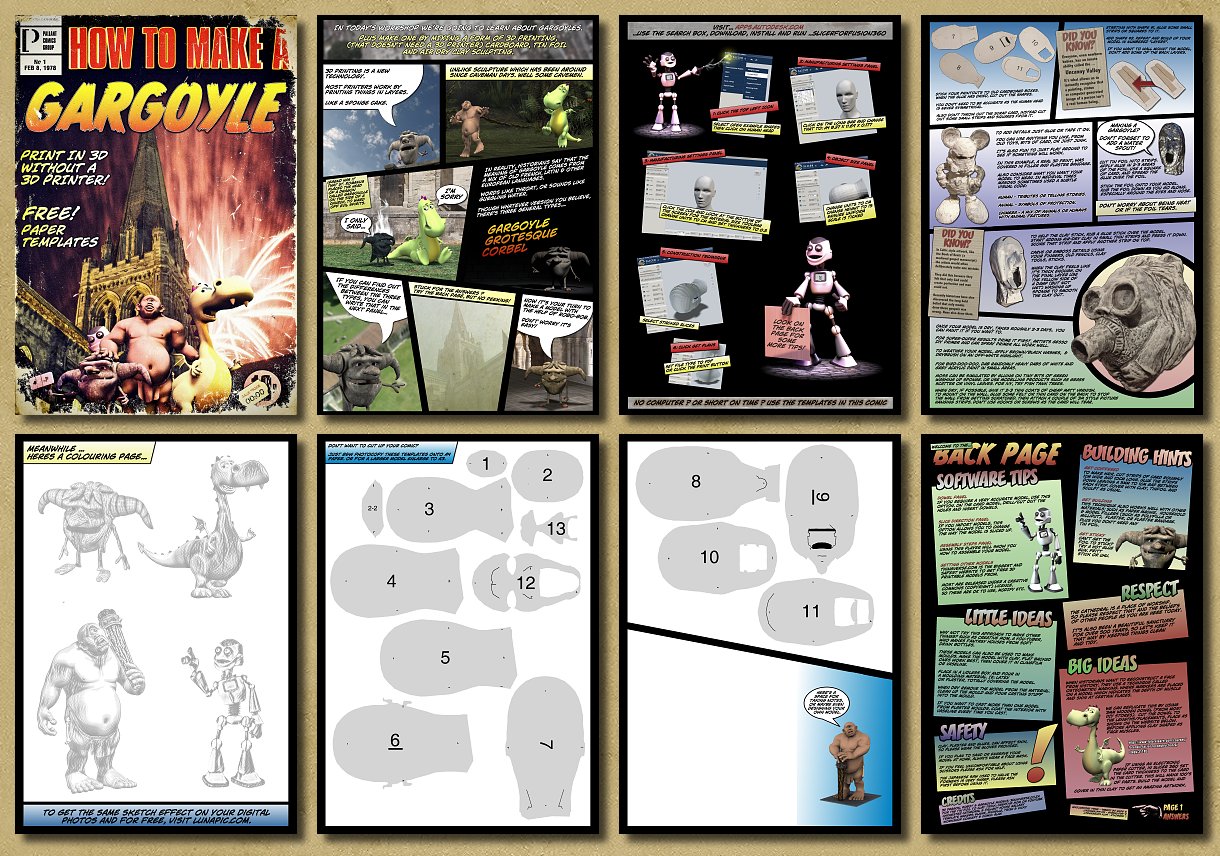 ---
<! Stop- Object> <! Stop - category title > <! Start - Object>

Sci-Fi Set With Hi-Res 4K System
This concept contains both a free sci-fi set and a way that you can simulate your own 4K style images. So no need to spend 4 Grand on a new telly!
---
<! Stop- Object> <! Start - Object>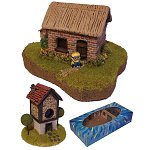 Modelling Handbook
A 12 Page A4 booklet (.PDF) originally created for a Art Gallery workshop. This briefly covers 3D to 2D conversion as well as featuring loads of ideas and traditional modelling tips.
Please Note: This handbook was produced by myself for a Pallant House Gallery workshop.
It is not an offical publication or endorsed by the gallery.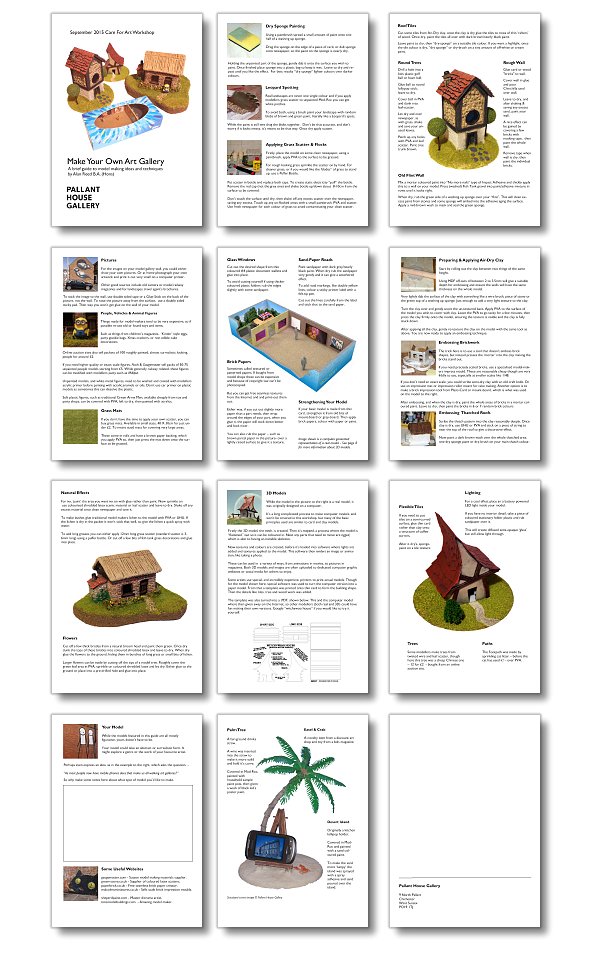 ---
<! Stop- Object> <! Start - Object>

Rolling Road
This is an attempt at modelling an animation concept. The scenery rolls 360 degrees around the X axis for the duration of the animation. Aka it rolls, while the figure doesn't. Plus theres an optional backplate to give the impression of a rising horizon.
---
<! Stop- Object> <! Start - Object>

How to trigger your SLR using a media player
This .PDF tutorial shows how you can use a Media Player and other cheap hardware to take photos with your SLR.
---
<! Stop- Object> <! Start - Object>

Create 3D HD Movies in Poser for your TV
This .PDF tutorial is an extension to the ones below and covers how you can create anaglyphic movies using only Poser and simple software. Movies that can be watched on an standard HD TV. Also covers how to get the videos from your PC to your telly.
---
<! Stop- Object> <! Start - Object>

Use .MPO files - 3D Photos - within Poser
This .PDF tutorial describes how you can extract 2 images from a single .MPO file (photos created by real 3d cameras) and use these within Poser. It also contains instructions for making static anaglyphs from renders, plus some hints, tips and examples.
---
<! Stop- Object> <! Start - Object>

LightPlay
An exploration of some techniques and ideas in both 3D and photographically to create some cool lighting effects. Including stuff like how to make real life light-spinners or free virtual lighting shapes to download.
---
<! Stop- Object> <! Start - Object>

Anaglyphic Background Prop
Inspired by some kids 3d drawing toys, here's a very simple prop with an anaglyphic grid which when viewed with Red/Blue 3D Glasses causes your figures to stand out. Also useable a basic background prop for square photos.


---
<! Stop- Object> <! Start - Object>

Parallax Scrolling within Poser
This is a fully working model which replicates Parallax Scrolling within Poser, Daz Studio and Vue. Parallax Scrolling is "a special scrolling pseudo-3D technique in computer graphics, which creates an illusion of depth in a 2D image". For more detailed information and full instructions, please read the readme.txt file within the zip file. Also many thanks to Vanishing Point for rigging this for me.
---
<! Stop- Object> <! Start - Object>

Create dioramic style DOF in any 3d app
This tutorial shows you a very simple to way of faking DOF (Depth of Field). Works great for both animations and static renders.
---
<! Stop- Object> <! Start - Object>

Fun Optical Illusion Thingy
Based upon the the work of Antonio-Perez Melero. This working model is akin to lenticular prints. But instead of moving the image to see the picture you need to "walk" around the artwork and view it from different perspectives to see the the effect. Theres no image here, because that would spoil the surprise.
---
<! Stop- Object> <! Start - Object>

Photo2Vue
A tutorial for Vue 5 infinite (and higher) which shows how to use single photographs within Vue to make backgrounds with matching IBL lighting.
---
<! Stop- Object> <! Start - Object>

Distance Simulation Unit
Working poser model thatís designed to simulate distances in Poser without bogging down your system. Mapped to take most digital photographs.
---
<! Stop- Object> <! Start - Object>

Using Alpha Planes in Animation
This easy to use tutorial shows how to use alpha planes within Poser, particulary with animations. Also discusses how these can be used to create Chromakey Overlays and an simple idea regarding animated 3D Decoupage & Back Projection.
---
<! Stop- Object> <! Start - Object>

Panel Texturing A zipped .pdf file which explains some of the texturing techniques I've used on models before. It's a very old file, but some folks may find it usefull.

<! Stop- Object> <! Stop - define main table >

<! Start - footer >