<! content start>


Cyrano at the Weald & Download Museum - July 2016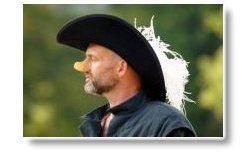 I've been fortunate enough to be able get involved with making props, and taking photographs, for a community production of Cyrano that was performed at the medieval market place at the Weald and Downland Open Air Museum.

Discover more...
Animal Furniture - June 2016

In our house we're great belivers in enriching the lives of our little furry friends, or as some of our neighbours reckon, idiots with power tools. So for your viewing pleasure...


Cat Run
(Under construction) for Mr K4, who only has 3 legs after an accident. With no bounce in his bungee, he can't jump or play outside, so we built him a folding run.



TCAS - Teacup Chihuahua Access System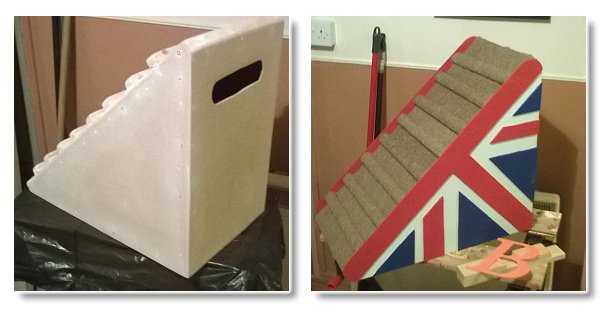 You might be able to terrify everyone on the bus, but when you're only 11in long you're kinda b*ggered by things like beds and sofas. So overcome your nemesises and get your humans to make you a ramp. Complete with carpeted runners, carry handle, moulded relief colour scheme and even a personalised monogram.



Escape Proof Hamster Cage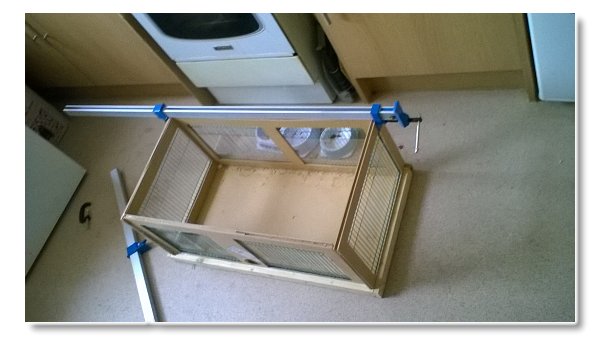 With 4 layers of wood, wire and plexiglass this is the SuperMax of hamster cages. Unless you leave the lid off and it'll leg it quicker than Ronnie Biggs with a Harrier JumpJet.

Human Furniture - 2016

Airing Cupboard Stand

My 2nd major build. This wasn't planned but a matter of need after some contractors drilled through a wall, trashing the original cupboard shelving and dislodging a water pipe!

All after they'd waterproofed the other side of the wall making it impossible to replace the shelving. The cupboard space isn't truely square either, so the new stand has to curve in one corner.

The mobile photo shows the construction, 33x33mm and 33x24mm softwood with 9mm dowels, with 2 coats of acrylic primer before a gloss coat.

It's nothing particulary fancy, some of the joints are slighlty out, but it serves it's purpose and will easily last longer than I will :)


Xmas Tree Train Set Box & Stand

Cats love cardboard boxes, which isn't great if you've stored a xmas tree trainset in it!
Hence a combined storage box and stand to store it safely. The concept here is that the box will consist of 3 parts, base, lid and stand.

The base has a slightly raised internal lip on which the trainet sits. This allows the trainset to be replaced or repaired, such as when the house light batteries need replacing.

As you can see the base also contains 2 gaps, in which a stand will slot into which allows it to be easily taken apart for storage.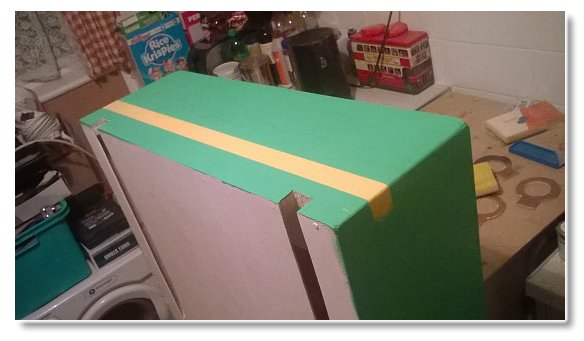 The lid has a large gap cut out in which acrylic "glass" is being put so the model can be easily checked for damage.

The box is made complete rather than in two sections. A trick learnt while studying last year at the local college, so that when it is cut out (along the yellow coachline) the two halves should line up.

The box is finished with matchpots of Dulux Endurance, in a shade akin to the Flying Scotsman to keep the train theme and also because that paint is ultra hardwearing and cleanable. The coachline uses Frog Delicate masking tape to give a near perfect line.
.: Important Stuff :.


Comcast, Hotmail & RR.com Users
If you order and don't get a download email within 15 minutes of ordering please contact the rather coridial customer service system. Sometimes mails with links don't get through because of MS's filtering system. Apologys in advance and please note this issue only affects certain MS owned or controlled email services.



Poser® is a registered trademark of Smith Micro
Site design and (unless stated) all content is &copy MrSparky Esq

<! content stop>