<! content start> Aircraft 727 - Vue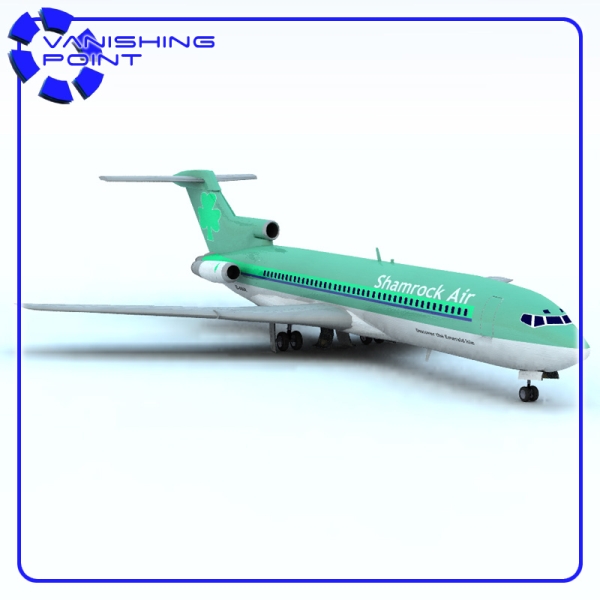 Created by: Vanishing Point
File Size: 8.48mb
Format: Vue

Based on the design of the 717, this Poser aircraft is ready to take to skies... or stay on the ground, whichever best suits your needs.

From Wikipedia: The 727 is an American mid-size, narrow-body, three-engine, T-tailed commercial jet airliner. The first 727 flew in 1963 and for over a decade it was the most produced commercial jet airliner in the world. When production ended in 1984, a total of 1,831 aircraft had been produced. The 727`s sales record for the most jet airliners ever sold was broken in the early 1990s by its younger stablemate, the 737 (which is avaliable here).

The 727 was produced following the success of the 707 quad-jet airliner. Designed for short-haul routes, the 727 became a mainstay of airlines` domestic route networks. A stretched variant, the 727-200, debuted in 1967. In August 2008, there were a total of 81 727-100 aircraft and 419 727-200 aircraft in airline service.

The 727 was designed to be used at smaller, regional airports, so independence from ground facilities was an important requirement. This gave rise to one of the 727`s most distinctive features: the built-in airstair that opens from the rear underbelly of the fuselage. D. B. Cooper, a hijacker, parachuted from the back of a 727 as it was flying over the Pacific Northwest.

The Justice Prisoner and Alien Transportation System, also known as `Con Air`, currently uses four 727 aircraft to transport persons in legal custody between prisons, detaining centers, courthouses, and other places where they must be transported.



.: Product Features :.

Includes 2 vob files, for use in Vue d`Esprit 5 and above -In Flight: landing gear hidden, landing gear doors closed; with Piedway color scheme -Landed: landing gear visible, landing gear doors open; with Shamrock color scheme
The models include separate parts, which can be adjusted to suit the needs of your scene. Note: although the parts can be moved, no pivot points have been set.



.: Textures :.

Includes five texture sets, at 2048x2048 pixels -Alli Air: red and white -Piedway Airlines: white with blue and gray stripes and a cartoon plane on the tail -Shamrock Air: green top with white bottom and a shamrock on the tail -TNJ Airlines: blue body with a red stripe -Unifed Airways: green top with blue bottom and a red stripe
The tires on this aircraft include modelled treads, so there is no need for a displacement map.
Templates are included for all materials; some templates are color-coded according to material.
Be sure to keep an eye out for additional free add-on textures for this aircraft!

This product is designed for use in Vue 5 and above.


This is the Vue Version
Additional Product Images:
Related Products:


Licencing Terms:


VP licence. A copy can be found here.

<! content stop>