<! content start> Ambulance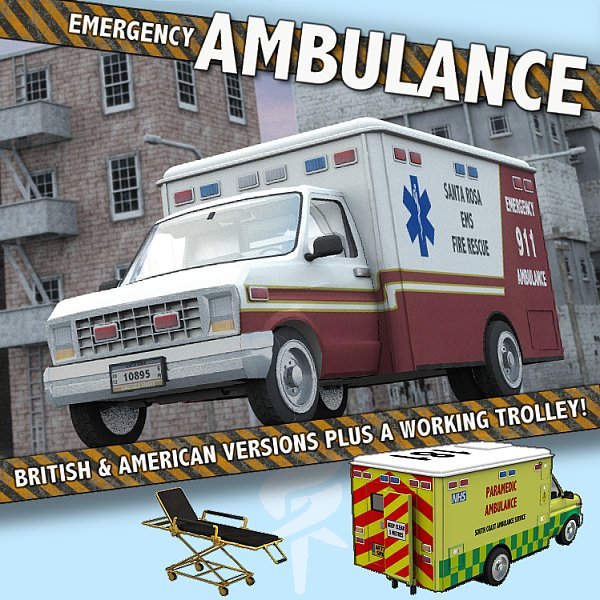 Owned by: Vanishing Point - Created by: MrSparky
File Size: 10.5mb
Format: Poser

Vicky smudged her lippy? Mike bent his pinkie? Who you gonna call - the Emergency ambulance!

This model comes in two versions: an American [left-hand drive] and British [right-hand drive] versions.
Each version has the side door on the passenger side, so your paramedics won't get squished by passing cars.
The British version also has a working rear trolley lift, so no bad backs for your favourite characters.

The cab on the model features a fully detailed interior, turning/steerable wheels, opening doors and a bonnet (hood) that can be opened/closed to display an accurate engine. Engine details include: washer bottle, battery and oil thingy.

The rear of the model comes with opening doors and panels. Plus it's packed full of (non removable) accurate medical looking stuff, including: boxes of rubber gloves, equipment on racks, defib, monitoring and oxygen kit.

Also included is a fully working model of a stretcher trolley. The whole trolley and the head of the bed can be raised or lowered. Plus the wheels turn and the side handles & lifting handle can be rotated.

Free textures and other items related to this product can be found at the Sparkyworld site.
Free items to date include, an set from a popular TV series plus medical poses.



.: Product Features :.

Includes 3 vob files, for use in Vue d`Esprit 5 and above-AmbulanceUK, with the ramp attached to the rear-AmbulanceUS-Trolley
All objects include separate parts, which can be adjusted to suit the needs of your scene. Joint centers for all moveable parts (doors, wheels, ramp) have been set to make the models easier to animate.



.: Textures :.

Includes three texture sets:
-Blue and white: an alternate color scheme.
-Green and yellow: the default color of the UK version.
-Red and white: the default color of the US version.
Materials have been optimized for use in Vue; for example, the "Silver" and metallic materials now include realistic reflections.
The model is mapped the same as the Poser version, so all add-on textures for the Poser version will work with this version.




This is the Poser Version


SketchFab Preview:



SketchFab is a a cool new service. One which allows 3d models to be previewed in most modern browsers without the use of any plugins or toolbars. The Sketchfab model on display here is courtesy of the nice folks at VanishingPoint.


Additional Product Images:
Related Products:


Licencing Terms:


Standard store licence. A copy can be found here.

<! content stop>