<! content start> C55 Sci-Fi Aircraft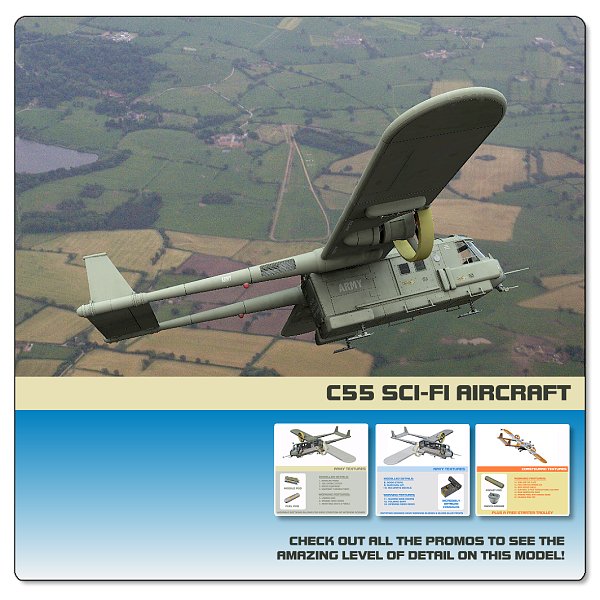 Created by: MrSparky
File Size:
Format: Poser

Inspired by classic aircraft and helicopter such as the Argosy, Huey, Apache, Bronco, Osprey and many others. The C55 Dropship is a incredibly detailed model of a futuristic aircraft with a semi-retro feel.

It has been constructed like a real aircraft using panels laid on a frame, with details like bolts, instrunent panels being fully modelled rather than just tetxured. This radically different approach to construction also extends to the list of features on the model including:

.: Modelled Detail :.

Electrical system in the wings.
Console with accurate instrumentation based on a real Cessna 127 & BlackHawk.
Interior equipment including seating and army stuff.


.: Sectional Division :.
Most parts of the model can hidden so you can easily create scenes without things getting in the way. This also allows you to use the model in different ways.

.: Working Features:.

Open/close both front doors.
Open/close a wide assortment of inspection, fuel, landing gear and maintance panels.
Rotatable engines with super-conducto-magento plates.
Sliding side doors.
Movable control yokes.
Fully adjustable seats.
Observation Dome.
Hinged wingtips.
Rotatable propellors.
Rescue Hatches.
Open/close rear door.
Fully retractable and working landing gear.
Blade blur poses.


Plus theres 3 textures sets using micro-mapping texturing. This approach means you can replace only maps visible to the camera with something incredibly large (such as 2048x2048 -not included) and ditch everything else, allowing you to create super hi-res images,

.: Texture Sets :.

Army
Marine/Navy Grey
Coastguard Rescue


These texture sets match the level of modelled detail and include details as observed on real aircraft such as rescue arrows and signage. For example the CoastGuard set includes the "DeadMans Line" which warns people not to walk into the propeller.

Also don't forget the additional accessories including:

Missile Pod with 4 fireable missiles
Rocket Pod.
Search amd Rescue Radome.
Extended Range Fuel Pod.



This is the Poser Version
Additional Product Images:
Related Products:


Licencing Terms:


Standard store licence. A copy can be found here.

<! content stop>