<! content start> HMCS Snowberry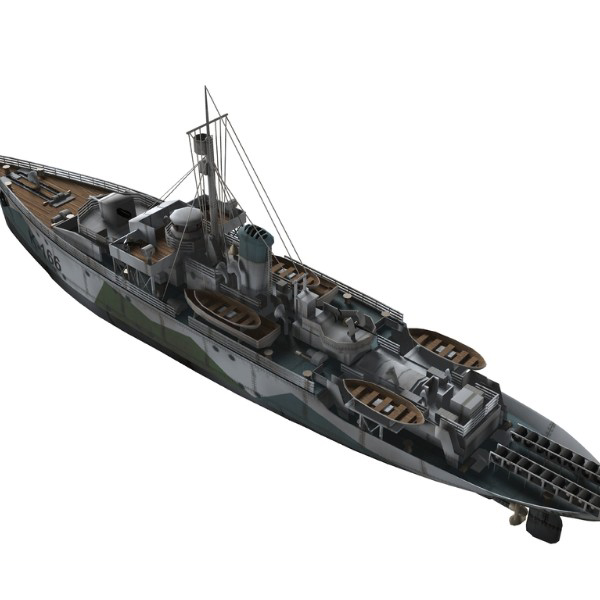 Created by: Schells Armoury
File Size: 12.2mb Approx
Format: Poser

The months leading up to World War II saw the RN return to the concept of a small escort warship being used in the shipping protection role. The Flower class was based on a whale-catcher design and apparently Winston Churchill labelled them "corvettes", thus restoring the title for the RN. As such, there is no linear link between the Flower class and the cruising vessels of pre-1877.

There are two distinct groups of vessels in this class: the original Flower class which was a group of 225 vessels ordered during the 1939 and 1940 building programs; and the modified Flower class which followed with a further 69 vessels ordered from 1940 onward. The modified "Flowers" were slightly larger and somewhat better armed.

In addition, those Flower-class vessels which saw service with the USN are also known as Action-class gunboats and carried the hull classification symbol PG (Patrol Gunboat), regardless of whether they were original or modified designs.

HMCS Snowberry was a Royal Canadian Navy Flower class corvette which took part in convoy escort duties during WW2.

Snowberry was laid down on 24 February 1940 and launched on 8 August 1940. She was ordered by the Royal Navy(RN) but was transferred to the RCN prior to completion. She was commissioned into the RCN on 26 November 1940

Product Features...HMCS Snowberry and Poser props: Anchor and chain.

1) To use the Smart-propped Anchors go to your runtime library in the folder marked "Chris's Props > HMCS Snowberry" and click the thumbnails for the items you wish to load... these will load in your scene automatically parented to the ship but can still be individually posed if needed...

2) Some locations have only one joint edited, unused joints/parameters have been hidden and are un-needed, and other locations have had limits applied to represent the mechanical nature of the ship, In your Scene Tree, look for the parameters marked "Elevate, Train, Swing, Spin, and Swivel" to pose the various parts of the ship. Guns, Cranes, Turrets and even the Spotlights and Propellers are pose able in this model!

3) All pose able parts can be found in the scene tree for the skeleton list of the HMCS Snowberry (I've rigged the parts rather than using morphs for better all-round versatility). This includes some 30 moving parts including fully poseable depth charges rigged to move independantly!

4) Included are the main HMCS Snowberry figure, 3 smart-propped versions of the Anchors (all anchors up, single anchor lowered, and all anchors lowered).. Optionally the Anchors may be left out for replacement by other props (such as the available "easy pose" chains and extra items of that nature available from many sources).


This is the Poser Version
Additional Product Images:
Related Products:


Licencing Terms:


Schells Armoury licence. A copy can be found here.

<! content stop>