<! content start> F14 - Tomcat - Vue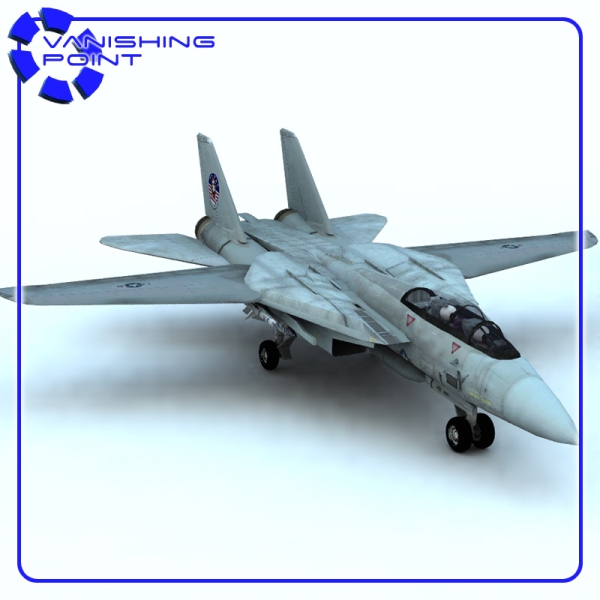 Created by: Vanishing Point
File Size: 18.9mb
Format: Vue

Are you top gun enough to take a ride on the highway to the danger zone?

Inspired by the design of the F14 swing-wing jet-fighter, this Poser model includes an opening canopy, movable wings, moving tail rudders, poseable missiles, and more.



.: Aircraft History :.

From Wikipedia: "The F-14 Tomcat is a supersonic, twin-engine, two-seat, variable-sweep wing aircraft. The F-14 was the United States Navy's primary maritime air superiority fighter, fleet defense interceptor and tactical reconnaissance platform from 1974 to 2006. It later performed precision strike missions once it was integrated with the Low Altitude Navigation and Targeting Infrared for Night LANTIRN system. The F-14 was developed after the collapse of the F-111B project, and was the first of the American teen-series fighters which were designed incorporating the experience of air combat against MiGs during the Vietnam War.

The F 14 first deployed in 1974 with the U.S. Navy aboard USS Enterprise, replacing the F-4 Phantom II and was retired from the active U.S. Navy fleet on 22 September 2006, having been replaced by the F/A-18E/F Super Hornet. As of 2009, the F 14 is in service with only the Islamic Republic of Iran Air Force, having been exported to Iran in 1976, during a time when the US had good diplomatic relations with the nation."



.: Product Features :.

Includes three versions of the model (3 .vob files):
Landed: with landing gear down and wings extended
In Flight 1: with landing gear up and wings extended
In Flight 2: with landing gear up and wings swept back

Each model has sub-groups which you can adjust to suit the needs of your scene: -Canopy -Wings -Rudders -Wing flaps -Landing gear -Pilot and co-pilot/ navigator -Missiles -Fuel tanks The pivot points on the wings and canopy have been set so you can easily rotate them into position. The wing flaps have been grouped with the main wings, which allows you to move the entire wing assembly as one part.


Textures: -Texture maps: 1024x1024 -Specular maps: 1024x1024 (these are not used on the model, but are included for your convenience) -Bump/ normal maps: 1024x1024 -Texture templates are not included; if you want to make your own textures, use the existing textures as guidelines. Materials have been optimized for use in Vue: includes bumpiness, reflection, and additional metallic coloring.


This is the Vue Version
Additional Product Images:
Related Products:


Licencing Terms:


VP licence. A copy can be found here.

<! content stop>