<! content start> Freebies - Guest Artists


This page features the work of other artists,
either their own creations or addons to my stuff.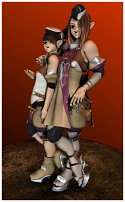 Anime Girl - Kirsten

Created by Chris Schell, this cool free figure has been influenced by many classic artists and movies.

The fully posable figure comes with so many features it's hard to list them all, but for starters, you'll get..

6 Body Shaping Morphs
2 Limb Shaping Morphs
9 Head Shaping Morphs
2 Eye Morphs
9 Facial Expression Morphs
4 Alternate Skin textures & Mat Poses
8 Alternate Eye textures & Mat Poses
2 Conforming Hair Styles with 2 Alternate Textures each
6 Alternate Toon-style Hair Mat Poses

Plus theres a free set of Conforming Clothes. A Sports Top and Shorts and Running Shoes with morphs and textures.

Download - External Site

NB: Large image contains bikini imagery.

P9 Lighting Collection

Another guest freebie, this time from seachnasaigh and it's a great bunch of lighting stuff for Poser 9/Poser Pro 2012.

Includes a laserbeam & light-sabre props, and a lighting system for VP's Viper MkII model. Plus a Sci-Fi demo panel and a text crawler sign (like those in shops) for anyone who wants to learn more about using the new lighting techniques in P9/PP2012.

No large image avaliable.
Ruins Sci-fi Scene

Here's an nice and very unique freebie by the Canadian artist, Chris Schell. The download is located on his site, Schell's Armour Works, which is a great place to find some unique sci-fi stuff.

No large image avaliable.

Download [9.42mb .zip - Site Link]

Busted Vehicle Addons

Created by Kastaway, here are some "bolt-ons" for which allows an artist to add damage, or to spherise, MrSparky's Heavy Duty Sci-fi truck, Overlander and Cog Bike freebie and VP's C55 aircraft.

IMPORTANT: This zip does NOT contain the original models or any external OBJ's. You'll need to install the freebie/products before using this.

Download [11.4mb .zip]

GunHed Unit 507

A guest freebie by Chris Schell. Based upon on the movie GunHed (Ganheddo), heres a highly detailed transformable Tank/Walker packed with weapons and stacks of working detail.

Please note: Chris's licence terms are different from other items here and as with any fan-arts stuff is for non commerical useage only. No large image avaliable.

Download from: [42.6mb .zip] - Chris's Portfolio Page


Reflective Safety Stripes

Created by Thalek, this is a set of Reflective safety stripes for the VP/PD jumpsuits.

It uses BagginsBill "lame" shader with modifications by EnglishBob.

Poser 6 and Higher only.

Download [713k .zip]

Ambulance Addon

Created by Safeunderdark, here is a Dutch texture set for the Ambulance model. Contains only textures, no models.

Download from: Safeunderdark.com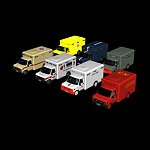 Belgian Textures

7 Belgian textures by DarthJ.

Download from: sharecg.com
British-Scottish Textures

Even more textures by DarthJ!

Download from: sharecg.com

Ambulance Station

Made by DarthJ, a base for your emergency vehicles.

Download from: sharecg.com
.: 3D Freebie Menu :.



<! content stop>