Retro Super Computer

Once upon a time, in a era before apps, everything had it's place. Where men in white coats earnstly smoked pipes and nerds where safely locked up in garages. Lived ... the Super Computer..

[1.40MB - Click For Download Page]

Toppa Cards

A small poser homage to the classic British kid's card game of the 1970/80's "Top Trumps". You can take the lid off, deal the 22 cards and actually play the game!

[3.30MB - Download Page]


Deckchair & Beach Stuff

As well as the deckchair model, this download now contains a whole load of beach stuff.

[2.26MB - Download Page]


Floating Security & V3 Head Cam

Two models, a head based security cam with missile and a standalone floating droid. These are so incredibly detailed and useable in various ways they have their own special page.

[6.15MB - Download Page]

Top Freebie Downloads for May 18-19th 2013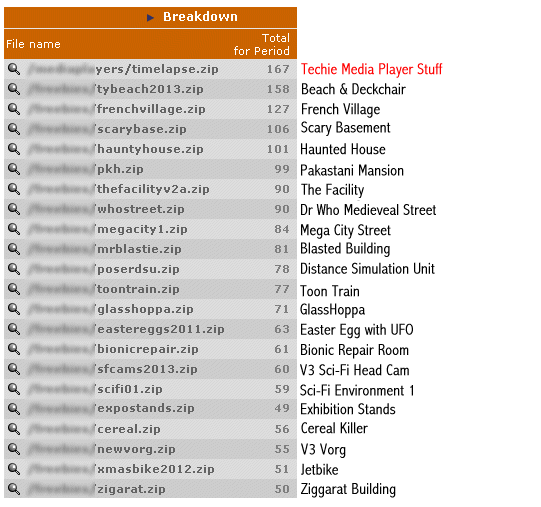 Number of Sales

Zero


It's simple maths. Without your help, it's highly likely that these weekly freebies might not be around in the future.

So if you can afford to, please browse the store. With your help these freebies, and many many more, will still be avaliable to everyone.

You'll also be directly supporting independant artists, not large companies. Plus you'll pay less, get great quality and personal customer service. Oh and you'll feel amazing!

Useful Things #1 Shredder

A home/office desktop shredder complete with modelled "paper jam", wire and plug. The "jam" can be removed, shredder is movable and the plug & wire hidden.

Download [1.24mb .zip]


Expo Stands & Advertising Stuff

Contains the typical type of small stands you'd find at exhibitions. Plus some thingys like banners and boards you'd see in shopping malls, airports and on the high street.

Download [1.26mb .zip]


Who Street

For a change heres a fan art model, a medievial street scene from Dr Who. Complete with a few extra props to add details to your renders. Click the thumbnail to see whats included.

BTW - Non commerical useage only obviously!

Download [5.32mb .zip]


Toon Train

My biggest ever freebie release to date is a complete toon train set with a train, rolling stock and a massive variety of accessories.

In fact just over 30 parts, so this model has it's own unique page, where you can see everything in the set and download it.

[11.2mb - Download page]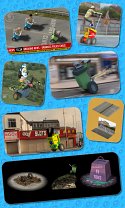 Warped Wheelies

Whats automatic..systematic..hydromatic ?
The warped wheelies of course!

Cop
Boy Racer
Fire Bingine
Mescherbin 109
Paramedic CamBulance

Also features the Simple Street & Motorway props. Plus theres the "Has Bins", for when even wheelies bins find it all too much :) Including Burnie and the 15 Ton Weight.

Download [6.71mb .zip]

Click the thumbnail to view them in action, you won't regret it!
.: 3D Freebie Menu :.