<! content start> News Helicopter - Poser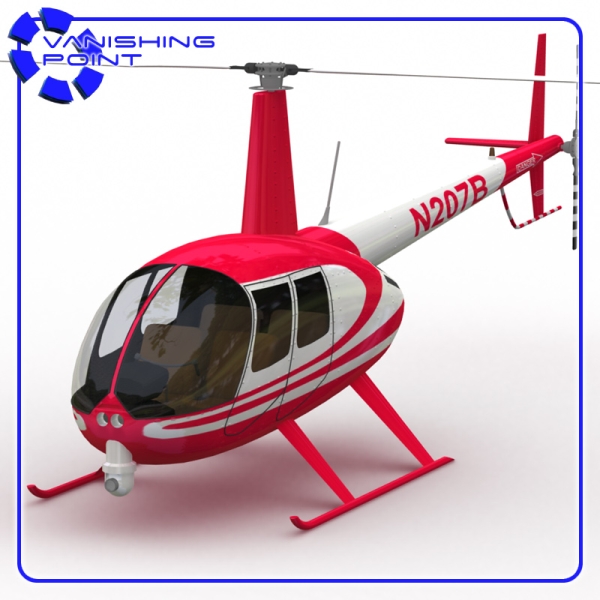 Created by: Vanishing Point
File Size: 4.28mb
Format: Poser

This helicopter is based on the design of the R44 civilian helicopter. This model helicopter is commonly used by TV and radio stations for its light weight and maneuverability.

The R44 helicopter can carry a camera on its nose, under the belly, or on small wings. This version includes a camera mounted on the nose.



.: Product Features :.

Poser figure (obj, cr2/ png): 68,000 polygons
Upper blades can rotate (with an ERC dial on the BODY).
Rear blades can rotate (with an ERC dial on the BODY).
All four doors can open and close (with an ERC dial on the BODY)... or hide them from the scene.
The front camera is a separate body part which can be hidden or shown, depending on the needs of your scene. A hide/ show pose is also included.
Blade Flex: the upper blades can bend down when the helicopter is landed and straighten for take-off.
Blade Blur: replace the upper and rear blades with a blurred prop to simulate the spinning of the blades. The Blade Blur is built into the helicopter model`s geometry so there`s no need to load a separate prop from the props folder.



.: Pose Files :.

Hide/ show front left door
Hide/ show rear left door
Hide/ show front right door
Hide/ show rear right door
Hide upper blades and show upper blade blur
Show upper blades and hide upper blade blur
Hide rear blades and show rear blade blur
Show rear blades and hide rear blade blur
Hide/ show camera
Camera on nose
Camera under body



.: Textures :.

Four (4) color schemes (with MAT poses to apply them): -Black -Blue/ White -Red/ White -Blue/ Gold
"Rivet" bump map
Templates for all materials are included.


This is the Poser Version
Additional Product Images:
Related Products:


Licencing Terms:


VP licence. A copy can be found here.

<! content stop>