<! content start> Sentinel Robot Mech - Poser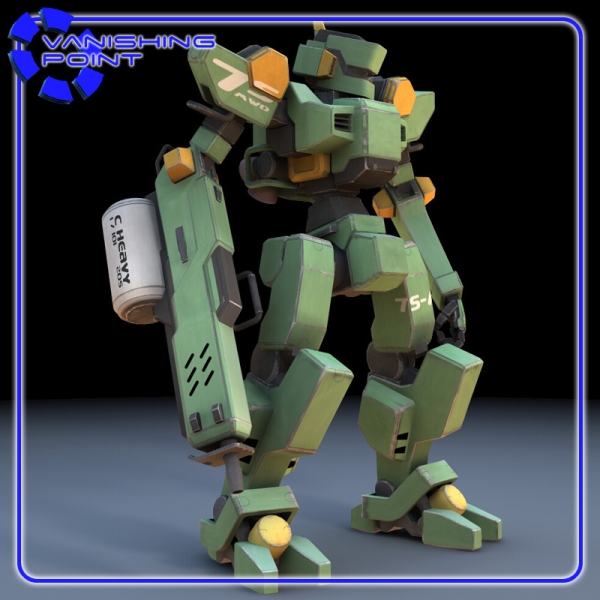 Created by: Vanishing Point
File Size: 6.89mb
Format: Poser

Introducing the newest robot from the VP Robotics division: the Sentinel Robot Mech. Guard your base, set up a defensive perimeter, or go on the offensive- this mech can do it all.

The right hand has been replaced with a AMJ-727 plasma cannon, capable of firing up to 50 rounds per minute. Your individual rate of fire may vary; do not exceed the overheat-warnings. The left hand includes four fingers and a thumb for grasping and lifting objects.



.: Product Features :.

A poseable robotic Poser figure: obj, cr2/ png -Pilot`s chair can extend down from chest (with an ERC dial on the BODY). -Although the left hand includes five poseable fingers, the individual digits on each finger do not bend. -An ERC dial on the BODY controls the fingers` "Grasp".



.: Textures/ MAT Poses :.

Includes three (3) color schemes: Also includes "shiny reflective" versions of all three color schemes to restore your robot mech to its factory shine.
Jungle Green
Jungle Green Shiny
Desert Brown
Desert Brown Shiny
Aquatic Blue
Aquatic Blue Shiny Texture templates are not included; if you want to make your own textures, use the existing textures as guidelines.

No shader-node texturing was used on this model, so it should work in other software programs. However, this model has only been tested in Poser and it may (or may not) import into other programs.


This is the Poser Version
Additional Product Images:
Related Products:


Licencing Terms:


VP licence. A copy can be found here.

<! content stop>