<! content start> Sci-Fi Construction Kit - Vehicles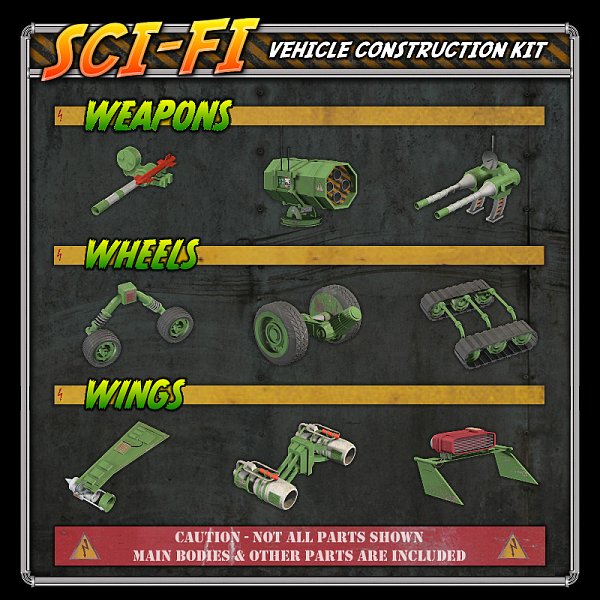 Created by: MrSparky
File Size: 18.03mb
Format: Poser

Created by MrSparky in association with Vanishing Point

The Sci-Fi Construction Kit - Vehicles set - is a great value collection of over 25 assorted parts, some with working features. It is designed to add extra detail to your existing sci-fi models and also to build your own models.

The S.C.K. contains the parts listed below and 3 preset models.

http://market.renderosity.com/mod/bcs/index.php?ViewProduct=78069

3 Main Bodies
Mars Racer
Solar Shuttle
-Terrain Hauler
The bodies have no moving parts

11 Wings
AeroWing
JetThrusters contains 3 wings: left, right and both joined together
Pod Wing
WingSet 1 contains 3 wings: left, right and both joined together
WingSet 2 contains 2 wings: left and right, with moving landing gear, which can rotate up and down.
Except for WingSet 2, the wings do not have any moving parts.

8 Wheels Wheel 1
Trax - contains 3 caterpillar tracks: left, right and both joined together; tracks don't move
Wideys - contains 2 pairs: left, right
Rolla - contains 2 types: straight support and angled support
Strutz - contains 2 pairs: left and right
Except for the Trax, all of the Wheel models include rotating wheels.

5 Weapons MLA 1 Rocket Launcher
Cupola Gun
Mega Machine Gun
Missile Gun
Twin Blasters
The MLA Rocket Launcher and Cupola Gun include moving parts.

Also includes 2 free mystery spaceship models: un-textured Poser figure models (obj, cr2/ png).

Textures A base starter texture set of an army-green texture set is also included, making this immediately compatible with other construction sets. The product also features MY MAPS mat poses. These mat poses load special templates. Full instructions are included within the products readme file.

Please note: this is NOT a resource kit. Therefore as with similar products, any models you create are for your use only (including non-commercial and commercial renders. The models can not be sold or given away as freebies. However, if you wish to use a few parts in your own creations for sale/freebies, please get in touch as we are flexible.


This is the Poser Version
Additional Product Images:
Related Products:


Licencing Terms:


<! content stop>